There are many of my friends who have a room in their home dedicated as their Sewing Room. They have a big table, a cork board for inspirations, a shelf to hold their stuff, and a design wall. All of you who have that space are so lucky! My house is smallish, so there isn't a room for my sewing. I have to share. The past 9 years I have been sewing on my kitchen table. We have a really big kitchen table, but it's our table you know? It was hard to share, and with the amount of things we need to use that table for: meals, homework, school projects etc. my sewing was always in the way, and I was so stubborn and refused to put it away because I can't get my sewing done if I have to constantly be putting away and setting up.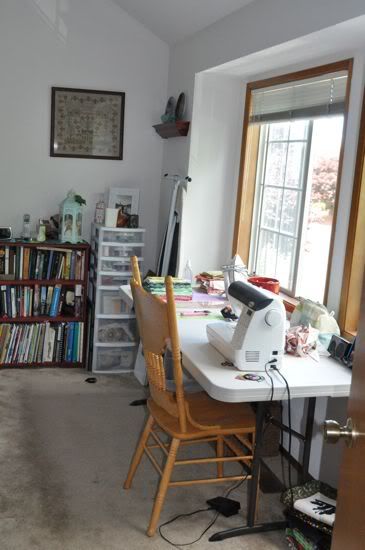 This past year Mark and I have been trying to figure out what to do about it. I wanted it in our bedroom, he didn't. I wanted a new table by our desk in the kitchen area, he didn't. And we went round and round. He had no solutions to our dilemma. So, I brought up again moving it to our bedroom. In our smallish house, the master bedroom is HUGE. He finally relented, and I bought a folding plastic table at Costco for $50.00. And that, my friends, is the best $50 I've spent! I am set up right under the windows for maximum light, and I can keep up with my kids when they are out in the front yard playing in the culdesac. My kids aren't sure if they like my new spot yet :P I'm always looking over their shoulders now, I find this really fun. They find it annoying.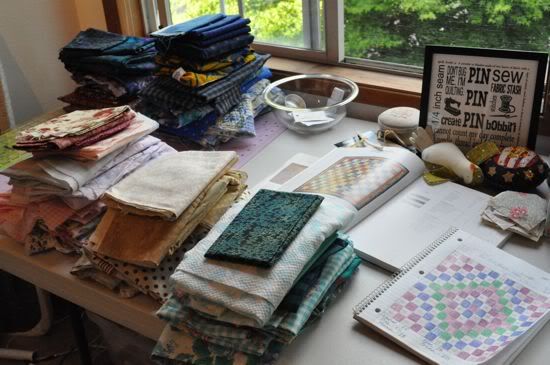 I can leave my stuff out! I can make a big mess and who cares? I get a nice breeze through the window! It's wonderful! My fabric won't get crumbs on it! My kitchen table actually looks like a kitchen table now!
I have yet to figure out a design wall, I may not get one still, and for now that is okay. I can live with that. I am just so happy to have a little corner in our house just for my sewing.