My mother in law made the most beautiful quilt. When she came to visit over the summer she brought it with her, along with all of the scraps from making it. It is currently being quilted by my friend Barbara on her long arm. When I was thinking of what to get her for Christmas, it dawned on me to use her scraps to make some throw pillows for her bed, so they'll match her quilt! I know, I am so smart huh? Pfffttt…
I stayed up late for a few nights making them...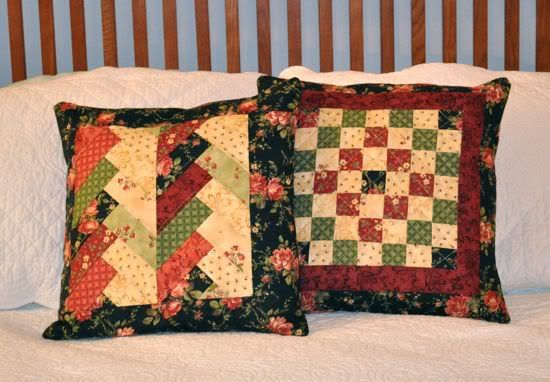 I have always wanted to try to make a "braid" block, so here is my attempt doing that. I used the instructions from my book, Jelly Roll Quilts.
And I did a general trip around the world and quilted it using a cross hatch. Easy peasy.
These were really fun to put together. Both pillows cover a 16" x 16" pillow form. I need to take the time to learn how to add piping to my pillows, I am sure it can't be that difficult. Maybe next time. There will be a next time :)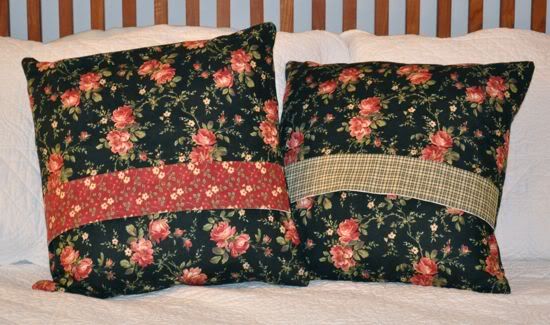 In other quilty goodness, I ordered some fabric from Heather Ross's studio sale a few months ago. I received my order last night! I wanted some of her fabric from Far Far Away II. I love what I was sent, it's on a linen type fabric that is really soft.
And the week of Thanksgiving our good friends Nate & Julie came to visit us from Utah. They stayed for about 3 days, and we had so much fun catching up with them. They were like a breath of fresh air. Julie is a quilter as well, and she brought me a huge stack of fat quarters as a gift! Holy cow! Julie you rock :) Now to find the perfect pattern…
I have a lot more to share, if I can find more time to blog, I will! I hope you are all doing great, enjoy the weekend!