When I started this blog in 2006, I was inspired by other cross stitchers to do it. I met so many wonderful people through blogging and cross stitching that I stitched like a mad woman for about 3 years. Then, the quilting bug started worming its way into my life, and that has taken over. I have such an obsessive personality, it's all or nothing for me! I still enjoy reading all of my stitching buddies blogs every day, and I enjoy my stitching hanging in my home.
I hit a road block with my current stitching project back in November. I have been slowly, but surely working on Gina, Queen of the Sea by Ink Circles. It has been a WIP for several years now, and the thread I am using is an over-dyed thread. Well, while working on it, I had to take some stitching out, I made a counting error, and the thread had left dye on the fabric! I was really bummed out about it, and haven't picked it up since then.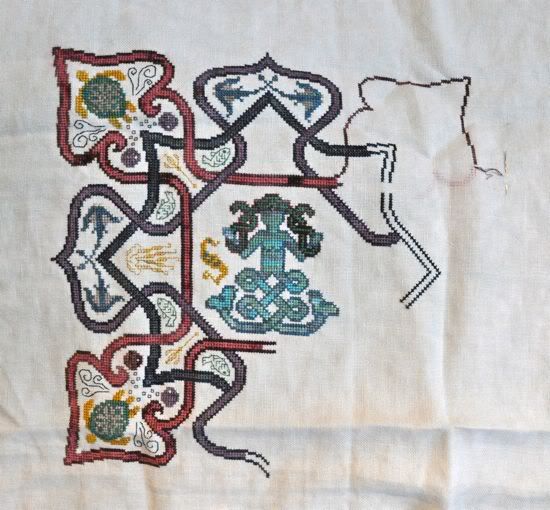 See the dye lines in the upper right hand corner? I have to take that whole line out to restitch. What would you do??
My friend Charissa told me to just restitch it, and adjust the pattern for the mistake I made in stitching. I think I was one stitch off... I could easily do that, but still...