Are any of you on Instagram? It is yet another highly addicting social media platform. If you are on there, you can follow me, my name is "oregonsurfers" I post on there at least once a day, if not more, it's so much fun!!
The reason I bring this up is because I could not resist the cross stitch pattern that was circulating on a lot of my friends Instagram photos. The started the
Kawaii Winter Sampler
.
The Frosted Pumpkin Stitchery
is doing an advent cross stitch pattern, releasing 5 a week for the month of November. I couldn't resist how cute and simple they were! I was really stuck in a rut on my cross stitching and this has pulled me right out of it.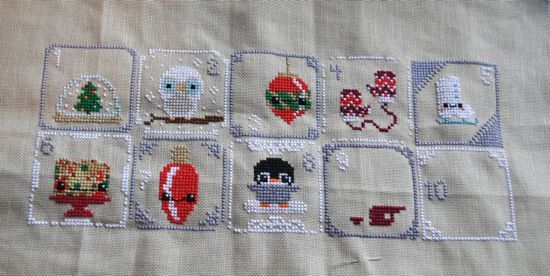 The color chart is using DMC or Cosmo floss, I already have so much DMC, I chose to use that brand of thread. I had a 28 count linen in my stash that I pulled to use. I saw somebody was using a really pretty blue linen and it looked awesome! (why didn't I think of that??)
I couldn't resist this owl, can you? Let me know if you are stitching it!