I've been getting a lot done lately, and it feels so good! I had lots of projects that were half way there, so the focus has been to get them further along. My first project was my
hand appliqued pillow top
, I finally finished into a huge 24" x 24" pillow for my bed. I love it so much.
This is from the Sarah Fielke class I watched on Craftsy. I can't recommend it enough!!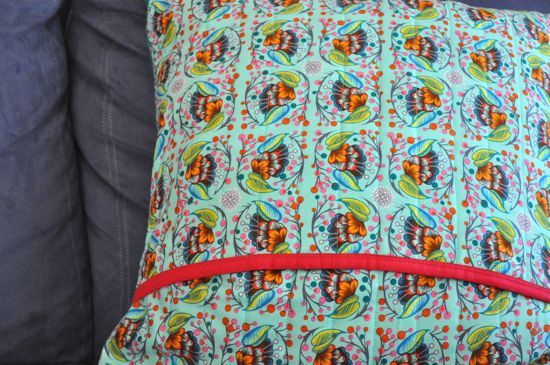 I put this gorgeous Anna Maria Horner fabric on the back, it has so many colors in it, love love it. It looks great on my bed. Also, it is really big, so it'll get lots of use!
The next project is the
Spin Cycle
quilt pattern. This quilt will be for one of my
Etsy
customers. She previously had me make
this quilt
for her daughter, and has asked me to make one for her other daughter. Her requirements were "bright and fun"
I still need to add one more border, but I got pretty far on it, so I'm happy.
Linking up with Freshly Pieced: