*this is me happy dancing around* well, trying to, my back is killing me after bending over for so long pinning the borders around it, but it's DONE! I would say this quilt took me a total of 8 hours to complete. That is nothing compared to time spent on all of the others I've made (not like that's a lot) but still, I am very happy :D :D :D Okay, here are the pictures I know you all want to see.
Here it is, all done :D
Close up of center:
Close up of Border: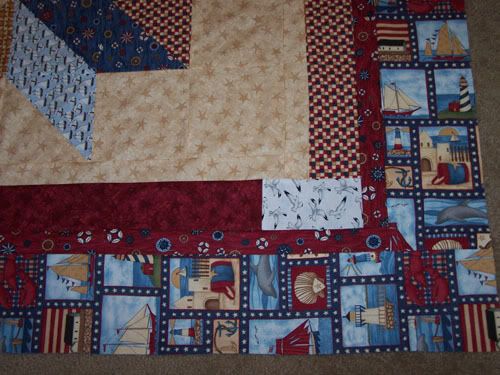 I really am satisfied with the fabric on this, it is all something I love, and I just can't stop looking at it... okay...
Cross stitching! In between kiddie movies this past week and weekend, I finished up the Shepherd's Bush freebie: Be happy. It still needs the buttons, so I'll need to go to the LNS.
Also, I joined a RR on the Jayne's Attic board, and here is the start of my part, before I send it off to Iceland. I have to have it done by Feb. 19th. No problem :) It is Autumn Winds by The Prairie Schooler.