I'm back! I have lots of fun projects to show you, and have missed blogging a lot. I hope some of you are still out there reading this blog. I recently finished a quilt that I've been working on for years. Dianne of
The Suburban Stitcher
and I started it back in
April of 2011
(oh my, that's awhile back) I worked on it off and on that year, and finished the quilt top in 2013. It's a big quilt, with a lot of pieces! Sometimes quilting is all about the process, taking your time and enjoying it. Honestly, the part I got hung up on after the top was done was getting it quilted. My friend Barbara came to the rescue and quilted it for me on her longarm machine, what a blessing!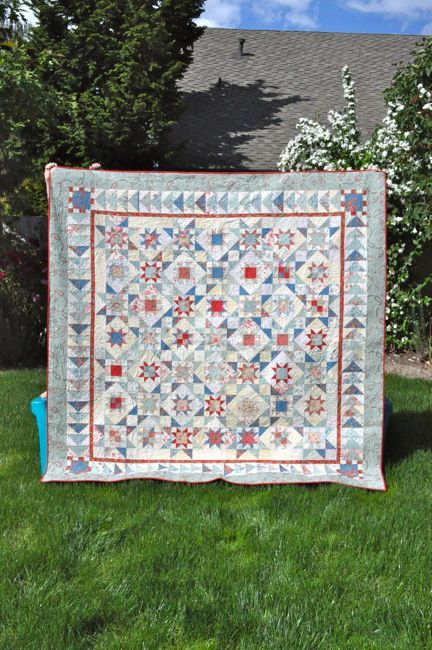 The quilt is 90" x 90", I made it big enough to fit on our queen size bed. It's a beautiful quilt, the colors are fabulous! The fabric is by The French General for Moda. I used a fat quarter bundle, and added in some matching fabric from my stash.
The pattern is Stella Blue, by Miss Rosie's Quilt Company. I used a large check homespun for the backing, it's so soft.
It sure feels good to be done with this quilt, and finally be using it. Now onto the next finish!