It's Friday, yay!!! I like Fridays. That means I am about to have two days off :) On Wednesday night I completed my Short Story quilt. It's so cute, I am happy to have a finish.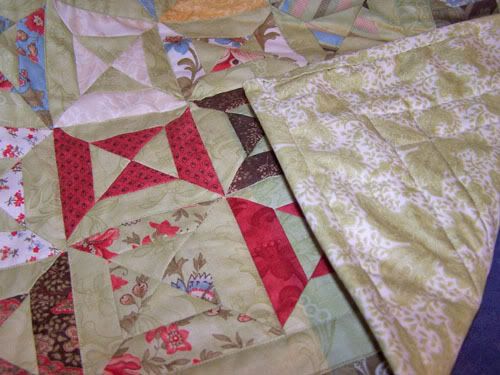 Now, I need some help… I am almost done with my Holly Jolly quilt, just have to bind it. This is the fabric I want to use to bind it, I have about 3/8 of a yard, and need another ½ yard to be able to bind this quilt, I have called every single quilt shop in my area and nobody has this fabric! I think this would be perfect to bind the quilt. So, does anyone out there have this in their stash, that they'd be willing to sell to me? Please?? :) I would be so grateful. It's Moda fabric from the Holly Jolly line.
I went to quilt group at church last night. We've all been having fun making Carpenter Star quilts. Everyone has been doing such a good job. I hope to take pictures next month of everyone's version of the quilt. I started a baby quilt for a friend while I was there. Have a nice weekend!!!